Thanksgiving is here. Thanksgiving is here?! Thanksgiving is here!!!
Hey, how about a drop-in with a few recipes since I haven't talked food in a while!
Ben & I are on the board of an org that hosted a running event in Hershey, PA last weekend. We've been together as a group for 11 years now and have come a long way from sharing beds at cheap hotels and eating Wendy's 5 times in 2 days – just so we could save on budget and make sure our organization could grow! I'm so proud of what we've been able to accomplish, and the main reason for our big steps forward this year is because we added to our staff.
But managing a race is….indescribably exhausting. It's stressful, time-consuming, and you can never really plan for what gets thrown at you. Since the group only gathers twice a year, we also hold our big planning meetings for the future. Between doing and discussing, the week is a blur.
Hidden talent: Spray painting………. with a stencil.
In the past year or so, we've started giving priority to OURSELVES so that we could better take care of runners, the event, and volunteers. Self Care: By getting enough sleep and were eating at appropriate times (or at all), we were better people and able to think faster, handle emergencies, and focus. This year I even noticed that none of us were really burned out like we normally are after the event. It means cooking in (no fast food records like our past Wendy's binge of 5 times in 2 days, true story), and a self-imposed lights-out time. (We used to stay up until 2am prepping stuff the night before the race, only to wake at 5am to get going for a 12+ hour day out in the cold). It was overall just so nice stop and enjoy each others' company for 2 seconds each day.
I took on cooking for the group, considering it just as important to the race as ensuring there's a finish line, volunteers, or a race starter! The event staff has grown to 15 people now, so it's not as simple as going to a restaurant and being out in less than 2 hours… unless we're eating fast food. We stay at hotels with multiple bedroom suites and full kitchens- is a huge plus for meetings and a money-saver. With some advance planning, I put myself in character as Chef Robert on Dinner Impossible (you know – that show where he cooks for like 200 people?!), and whipped up a menu.
Guys, I'VE BEEN DOING COSTCO ALL WRONG! This time I went with my entourage of 3 others – I didn't have to bag or pick up a single thing! I simply pointed, indicated how much/many, and it was in the cart. I had no goals to push my food beliefs on anyone else – I was aiming for nutrient-dense, yummy meals that everyone could enjoy and keep energy levels up (we used to just eat stuff in wrappers so come on!). There was a little bit of adjusting for those who were mostly vegetarian but ok with poultry.
Food Criteria: Few ingredients, easy prep, festive/savory, gluten-free, dairy-free. Oh yeah, and fast-ish. And 15+ servings ready to eat in under 90 minutes (usually 60).
If you're looking for a way to feed a lot of people good food (that'll appeal to most) in the laziest way possible, this is it! I linked to the recipes where I used one, but some were so simple I could just describe them here!
Thursday
The 'slowest' day. Everyone's out and about gathering event supplies
BREAKFAST: Oven roasted potatoes, red peppers, onion, and sausage
Similar recipe here.
Ingredients:
-Little Rainbow potatoes (or any color, we don't discriminate!)
-Sweet onions
-Red Peppers
-Olive oil
-Salt & pepper to taste
Directions:
Cut rainbow potatoes in half, dice onions, and red peppers. Cut chicken sausage into half moons. Toss with 2 Tbsp of olive oil. Bake on a rimmed cookie sheet at a 400* F for 15 mins, turn, and finish baking for another 15 minutes. Alternatively: Sub BACON! for chicken sausage.
DINNER:  Chicken Cacciatore. Oven-roasted broccoli & lemon.
Chicken Cacciatore:
The official Whole30 cookbook chicken cacciatore recipe is amazing! Buy the book – you won't be disappointed. I know this recipe by heart I have made it so many times – an awesome one-pot meal. Broccoli's a nice and easy add without a ton of work.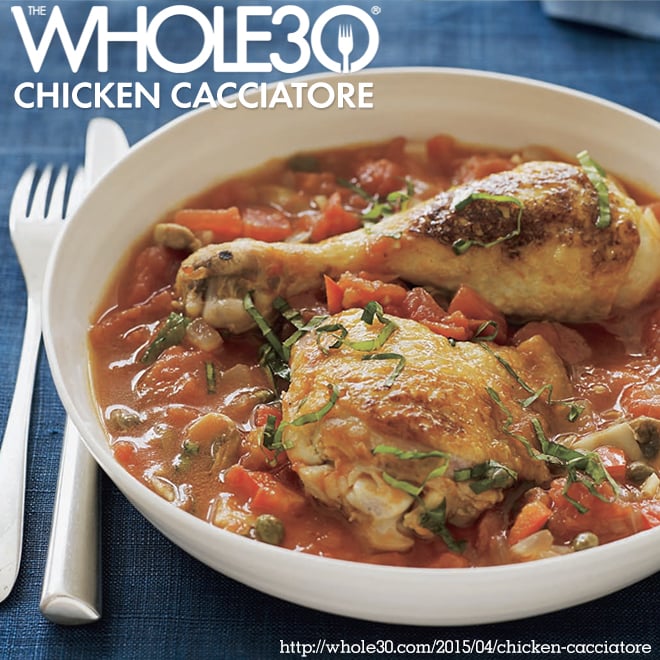 Ingredients:
– Chicken thighs (i used breast for pure laziness)
– Canned tomatoes
– Mushrooms
– Red Peppers
– Sweet Onion
– Garlic
– Capers
– Basil
10-second Directions:
Brown saltted/peppered chicken in pan & remove. Sauté onions in the pan & cook until soft, add red peppers (cook 'til soft), mushrooms, then garlic, then capers, and finally canned tomatoes. Simmer for 20 minutes until chicken is cooked through. Top with basil & serve.
Oven-Roasted Broccoli
Similar: oven-roasted broccoli recipe.
Ingredients:
– Broccoli (lazy tip: buy the pre-cut kind!)
– Garlic
– Lemon
– Olive Oil
Directions:
Cut up broccoli and toss to coat lightly olive oil and minced garlic. Lay on a baking sheet and bake at 400*F for about 20 minutes (until brown!). Add a squeeze of lemon.
Friday – Everyone's out and about, prepping the course and/or in meetings.
BREAKFAST:  Steph's "This is What Whole30's About?!" Sweet Potato Hash. Guac or egg on top.
This is the go-to breakfast I make that makes people think, "Hey, Whole30 doesn't seem so scary after all!" 
It works as delicious leftovers.
Ingredients:
– Sweet potatoes, peeled & diced (lazy way: get them pre-diced and peeled)
– Chicken sausage
– Avocados or guacamole pre-made
– Eggs
Directions:
Dice sweet potatoes, sauté in a pan/large pot with coconut oil for 20 minutes or until soft (or browned). Add slices of pre-cooked chicken sausage. Remove from heat, and mix in diced apples. Top with a runny egg or guacamole!
DINNER: Pumpkin Turkey Chili. Harvest Salad

Pumpkin Turkey Chili
Similar beef chili recipe here from the Whole30 website. Adopted the Whole30 basic beef chili recipe from the Whole30 Cookbook
.
Lazy cheat: I took the leftover veggies/tomatoes & liquid from the chicken cacciatore the night before and dumped it into the chili so the leftovers didn't go to waste.
Ingredients:
– Ground Turkey
– Red Peppers – diced
– Green Peppers – diced
– Onion – diced
– Canned chickpeas
– Canned diced tomatoes
– Canned pumpkin
– Garlic – minced
– Cumin
– Ground mustard
– Chili Powder
– Salt & pepper to taste
Directions:
Brown the turkey in a separate pan, and sauté the diced fresh veggies in a big pot. Add turkey,  seasoning, garlic, canned chickpeas, and canned tomatoes to the big pot. Simmer for 20 minutes. Stir in canned pumpkin well. Simmer longer or serve.
Harvest Salad
We bought big versions of all ingredients at Sam's Club & Costco. The simple dressing idea sounded good when I put it together n my head… I'm thankful it came out that way too!
Ingredients
Salad greens
Apple chips
Fresh Raspberries
Walnut pieces
Dressing: Apple juice, honey, apple cider vinegar, olive oil.
Directions: Combine salad ingredients. Whisk dressing ingredients together. Done.
SATURDAY:
RACE DAY! Grab and go only. Something warm and savory when we're back.
BREAKFAST: Spinach Egg frittata & Grain-Free Cranberry-Blueberry Banana Muffins
Everything I made for today was grab and go because we were at it early and didn't have much time to stop and eat. I made it all the night before so all I needed to do was re-heat it in the oven. This is a recipe outta my head. Use any veggies you like!
Egg Frittata
Coconut milk adds enough fat to keep you full
Ingredients:
– Eggs (lazy way: I got the liquid kind in cartons – 2 of them)
– Fresh spinach – frozen works too
– Onions
– Red Peppers
– Coconut milk, full can
– Garlic
– Fresh Basil
– Italian seasoning
– Salt & Pepper
– Coconut oil
Directions:
Combine all ingredients in a baking dish. Add coconut oil to help with stuff sticking to the bakeware. Carefully stir everything together to mix well. Bake for 60 minutes at 375*F or until a fork stuck in the center comes out clean.
Cranberry Blueberry Banana Muffins
Adapted from this grain-free muffin recipe. I took a chance on this since I've never had paleo muffins turn out well… this time? #nailedit.
Travel tip: look for foil baking cups so you don't need/if you don't have a muffin pan handy – they stand on their own.
Ingredients:
– 2 Bananas – mashed
– 8 Eggs
– 4 cups almond flour
– 1 tsp baking soda
– 1/3 cup honey
– 1/4 tsp salt
– 1 Tbsp cinnamon
– Juice from 1/2-ish lemon
– 1 cup Frozen blueberries
– 1/3 cup Dried cranberries
Directions:
Combine dry ingredients and wet ingredients in separate bowls. Combine mixtures together, then fold in the blueberries and cranberries. Fill cupcake liners 3/4 full with batter. Bake at 325*F for 40-45 minutes or until lightly browned & a knife inserted into center comes out clean.
DINNER: Roasted Butternut Squash Soup. Lemon Baked Salmon.
Roasted Butternut Squash Soup
Recipe from Paleo Grubs. If this isn't Fall-festive, then I don't know what is.
Ingredients:
– Butternut squash (lazy tip: buy it pre-diced to avoid accidental amputation)
– Apples
– Onion
– Carrots
– Cinnamon
– Salt
– Cumin
– Chili Powder
– Olive oil
Directions: Click here for full recipe.
Roast all ingredients together, combine with broth or water, then blend. Bonus points: top with bacon.
SIMPLE Lemon Baked Salmon
Recipe from Allrecipes. This was so easy and was tasty with very few ingredients!
Ingredients:
– Rosemary
– Salmon – like, lots of salmon
– Lemons – sliced thinly
– Salt/Pepper
Directions: Click here for the full recipe.
Season, then bake salmon with rosemary & lemon slices on top.
---
Overall, this experience and weekend was a success! The running event was the largest we've ever had to date, and everything went very smoothly on race day. I feel like I played a big part in the event prep/execution all while helping us be our best selves.
Things I learned from playing Dinner Impossible:
My biggest problem was stealing enough pots, pans, and utensils from other rooms to prep for 15 people.
Cutting, dicing, and prepping was time-consuming & I was glad to have some help.
Good knives make a huge difference (I missed my knife set!).
It's a different ballgame when making batches this large – prep just takes longer than you think in general. I probably could've finished these in 45-60 minutes easily with smaller batches.
Hard to know how much people will eat. We had tons of leftovers but I was able to re-use food (see chili recipe)
Clean as you go – Without Ben cleaning up (removing trash, cleaning pots/pans and away empty cans), I would've run out of counter space and we would've been awake for another hour cleaning up.
Nothing is better for team bonding than a BIG OL' FAMILY DINNER!
Making the food itself was bucket-list fun: I've never accomplished a big meal before for some many people, in so little time, but I'm glad we didn't run out of food and everything I served was a hit (or they didn't have the guts to say otherwise, haha). There are few people I'd do this for, but since we HAVE been together for so long, I was thankful for the opportunity to give in this way for old and new friends. They're family <3
Happy Thanksgiving, friends!